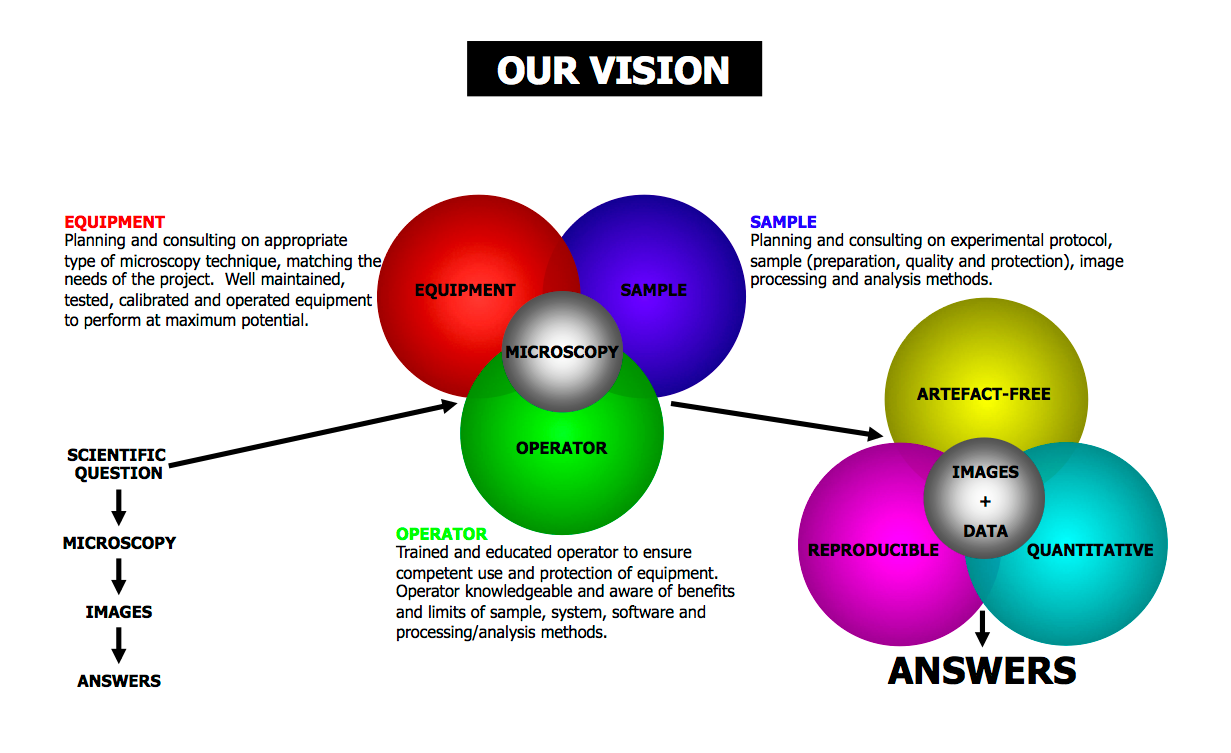 We are microscopy scientists and technicians bringing you performance, expertise and solutions.
MIA Cellavie offers full service microscopy for life sciences and health technologies:
Maximize equipment performance through technical services and operations.
Access expertise through consulting, training and contractual research.
Get solutions with image processing and analysis.
Advantages and benefits of using our integrated approach for microscopy:
Perform artefact-free, reproducible and quantitative microscopy projects.
Do research projects efficiently.
Obtain robust, strong and reliable scientific and medical data.
Maximize investments in staff, equipment and reagents.
Overview
Scientists regularly use light microscopy for their research: bright field, phase contrast, wide field epifluorescence and confocal fluorescence microscopy to name a few.  Such images provide answers which make their projects progress.  Methods for microscopy and image analysis constantly evolve in highly sophisticated manners such that scientists using them often face issues regarding artefact, reproducibility and quantitative data.  We believe in an integrated approach where sample, equipment and operator all contribute to ensure that data, in addition to the images, are collected.  Both these images and the data contained within them provide strong answers to the questions scientists are asking.
With that vision in mind, we will help you target the needs and evaluate the tools to make progress in microscopy, imaging and analysis.  Contractual research services are offered to the scientific community, either academic (principal investigators, imaging centres) or corporate (biotech, pharmaceutical, vendors).  Equipments used for these projects are covered by quality control (QC) measures to ensure optimal performance.  While the required equipment is most frequently situated at the user's location, as an authorized user, we can also provide an access to microscopy systems of the McGill University Life Sciences Complex (Cell Imaging and Analysis Network, CIAN, and Advanced Bio-Imaging Facility, ABIF).